Never forget why you're really doing what you're doing. Are you helping people? Are they happy? Are you happy? Are you profitable? Isn't that enough?

Derek Sivers
---
This article is the third in a series of 12 reviews of studying Growth marketing Minidegree at CXL Institute. Follow the minidegree tag for the entire series.
The customer is always right, right?
This is something that we as marketers should be used to. But how do we get a more user centric marketing approach to digital marketing?
Usually we do marketing research.
In my personal experience, even if user research exists, most of the time it usually sits somewhere and nobody uses it.
The reason I decided to focus on this particular chapter in the Growth Marketing Minidegree is that probably this is the most underrated type of information that we can use to drive growth.
As far as I understand growth comes from running experiments and with each one we better understand the user.
User centric marketing strategies
When you want to disrupt a niche, usually Facebook Ads and/or Google Ads are just a way to burn money if you don't know your customer. Starting the strategy with a user centric marketing approach is much better because some of the growth channels are the ones where users already are present and enjoy their digital life. Ideally, the product is just a cool nice finding for them.
At the end of the day user centric marketing draws on user research and user experience design and it seeks to use digital tools to better understand users and their journey so that we design our marketing strategy around them.
How to map the customer journey (and understand it)
The result of marketing activities is usually an action a user takes (to move down the funnel). In order to ask any type of action from anybody, it is crucial that we first understand them.
Understanding the audience with frameworks like buyer persona or the improved empathy maps builds on assuming what is the customer journey.
The way I would represent it is something like this: the customer journey is the path to a win (getting revenue) and the buyer person (or empathy map) is the road to find the ideal customer.
The urban legend says, that at Amazon, in every meeting, there is an empty chair to remind everybody of the customer. It sounds like a great way to avoid forgetting about user research.
Some keytakeaways:
digital has changed a consumer's relationship with businesses and the impact of that on the sales and marketing funnel.
our current approach of running marketing campaigns is inefficient in the light of the capabilities that digital tools offer us.
a more user-centric approach to marketing has the potential to improve conversion and create happier customers who will recommend you to others.
Inbound marketing uses buyer personas a lot, and I thought that it was an industry standard. It seems that this representation can be improved by using an empathy map to better understand the audience.
Since doing growth marketing, usually revolves around improving the product, not just the marketing campaign, I would add to the following list of resources on user centric marketing the Jobs-To-Be-Done framework.
User Centric Resources
In the chapter, something struck me. A simple and fail-proof way to embed user research in teams is to do it on recurring bases.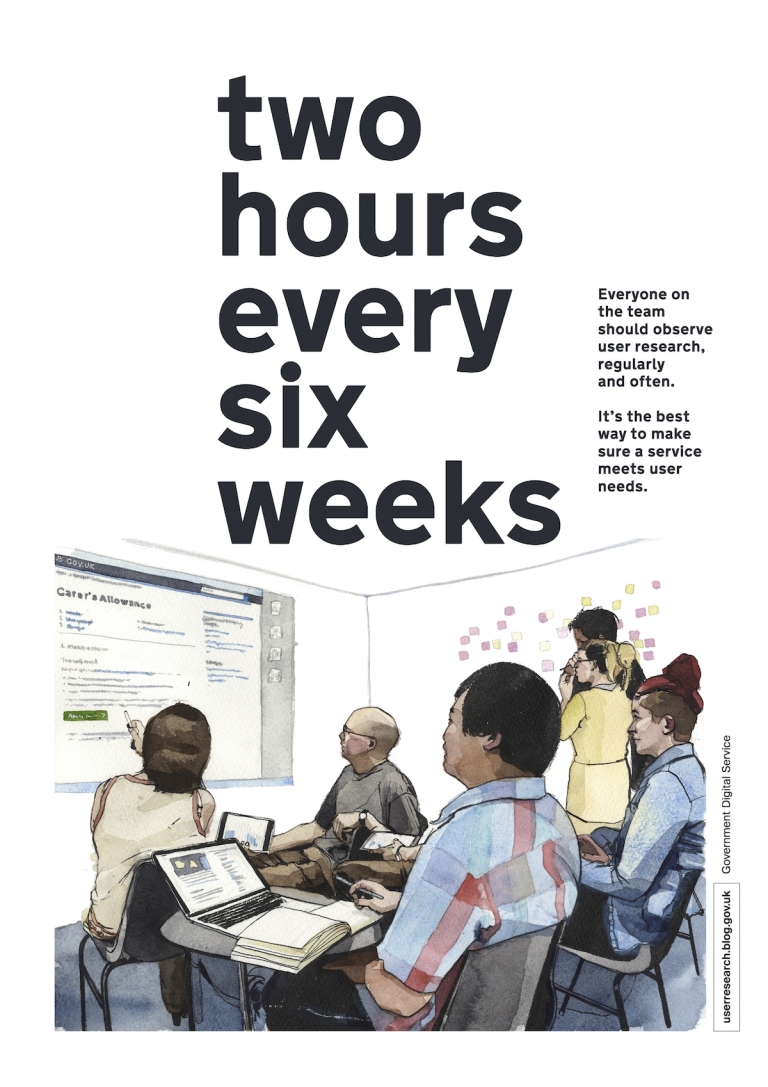 This is the first time I heard somebody look at the process of mapping a customer journey like a story. And like any story is not meant to be 100% accurate, but it should help us understand the user and context.
Think about it, when you look at the matrix below, it feels like there is science behind the customer map, but what if we start to treat it like a story with different turns.
Resources for usability tests:
Let's split the tools we use in two types: analytics and screen recording tools. A simple approach to growing the campaign post-launch is to use:
analytics because they are useful for finding drop-off points: where on the site are users leaving or abandoning?
screen recording tools are useful for identifying why people are dropping off at a particular point.
These 2 simple steps will help identify the problem, but it won't tell you how to fix it. For the next step, A/B testing is the key. But what can you do if you have low traffic website? Here are some hacks:
test a smaller number of variations
go for bigger changes that will result in a visible increase, not nuance small ones.
reduce the statistical significance
test close to the point of conversion if you have a low traffic website.
if you still want to test something that is not at the conversion point, test for micro-conversions – actions that lead to the main conversion.
For example, the goal is to have sign-ups to the newsletter. Start experimenting with the wording of the form and of the submit button.
But if you want to know what blog post title works better to increase sign-ups, maybe it is better to look at micro-conversion goals like if people scrolled through the article to get to the newsletter form.
But never rely only on A/B test…
Going through the user-centric marketing chapter reminds me of a small conversation I had with John Maeda at WordCamp Paris. He said something that stuck with me regarding the difference between quantitative and qualitative data. When you close a deal in Asia, you first go out and eat, talk about life, and basically get to know the person, before going into the meeting room to talk business.
In western offices, you first go into the meeting room, close the deal, and after that go out to eat and celebrate.
It made me think, why should I ask a person something before I get to know him?